Property. Ref: CE-CH-1E78B25 Date Added: 18-January-2022 Map / Approx. Location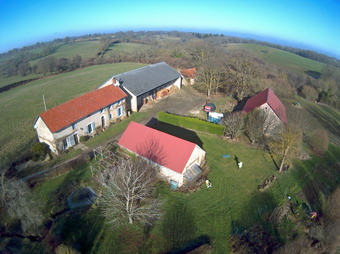 Under Offer





















Select a photo to Enlarge
4 Bedrooms
2 Bathrooms
Detached. Size: 210.00 m2
Plot: 24.71 acres

(10 ha)

4 Outbuildings
Ready to move into
Airport: Limoges, <200 km
Provisions <2 km
Supermarket <15 km
Village
Fishing Area
With equestrian Facilities
Add to My Favourites To store your favourites list for your next visit, you will need to log in above or sign up.
Equestrian property with house of 210m² on 10 ha. With 4 large stables and 50m x 30m arena. Ideally located near Preveranges, in central France. Large barn to accommodate up to 8 more boxes if required. Up to 20 tonnes of hay produced per year from the pastures.
Situated at the end of a private road, surrounded within its own land, 500m from nearest neighbours. Access to chemins direct from the property in 3 directions, leading to many kilometres of off road riding.
Many riding clubs in area including Western Riding, Show Jumping and Dressage. International equestrian facility located 40kM north at Lignieres where 3 day eventing, show-jumping, Dressage and horse racing competitions are held.
A very beutiful reacreational lake is just 10km North at the Lac de Sidiailles
Interested? Take the next step...
Private Seller Listing: This listing belongs to a private seller who will only communicate in English. Tel: 0033631584550
Why Sign Up?
Save your search criteria
Recommended properties
Ideal Property Email Alerts
Save & Print favourites
Ask property questions
Sign Up (Quick & Simple)
Flights to Limoges from...
Southampton
East Midlands
Liverpool
London Stanstead
Manchester
Newcastle
Local Accommodation
B&Bs and Gites
Send to a friend