A guide to Provence/Côte d'Azur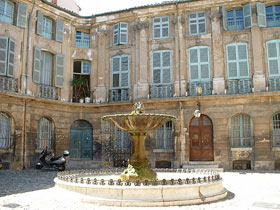 Aix En Provence by Happy A
To say that the region of Provence/Côte d'Azur has everything is not an exaggeration – it is an understatement!
A mere 2 hours flight away from Britain you can pass from the bucolic lavender-laden charm of a Provençal village to the glamorous sophistication of the French Riviera in less than an hour. You can go skiing in the Alps in the morning, water-ski in the Med in the afternoon, see and be seen in St. Tropez in the evening and cash in your chips in the Casino de Monte-Carlo at night. Oh and you can drive home, hood down of course, along breathtaking corniches and feel like James Bond or Princess Grace of Monaco.
No other region of France can offer such a heady mix, or so many guaranteed days of sunshine. Why buy in Provence? Why live anywhere else?
Must See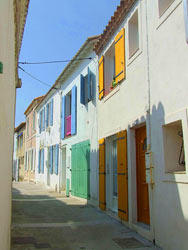 Saintes Maries de la Mer, the
capital of the Camargue by Milla
Provence is more than languid lavender-scented living with beautiful sandy beaches, turquoise seas, densely wooded hills and chic skiing resorts. The region includes a number of dramatic landscapes that are visitor attractions in their own right:
The Camargue: famous for its wild white horses, black bulls and pink flamingos, the delta of the River Rhône is a spectacular sight and one of Europe's major wetlands. Keeping watch over the salt marshes, Aigues-Mortes is a perfect walled town with towers and ramparts.
The Gorges of Verdon: one of the most dramatic sights in Europe, the vertiginous heights and precipitous falls of the Verdon Gorges can make some people feel like performing all bodily functions simultaneously. Such people should be relegated to the passenger seat while those of a sturdier constitution take the wheel. A tour takes at least a day, start from Castellane and head for Pont de l'Artuby where, if you are a complete masochist, you can do a bungee jump. I prefer to take in the view from the Balcons de la Mescla viewpoint. Follow the river on its route towards Aiguines (with its beautiful 17th century château) and on to the craggy heights of Moustiers-Ste-Marie. Turning back on yourself head for La Palud-sur-Verdon (which offers wild and beautiful walks on its Route des Crêtes) and take in the view at Pointe Sublime before returning to Castellane.
Les Calanques: these spectacular fjord-like inlets lie between Marseille and Cassis and form natural harbours with turquoise water and white sandy beaches. While some can only be reached by boat, most are accessible by car and some even on foot – walk from Cassis to Port-Miou and on to Port-Pin. Possibly the most beautiful are the En-Vau and Sormiou calanques – the latter recently revealed an underwater cave decorated with pictures of prehistoric animals reminiscent of those at Lascaux in the Dordogne.
Les Beaux de Provence: this now deserted fortress, once the citadel of feudal lords, overlooks the Val d'Enfer (Infernal Valley) said to be the haunt of witches and goblins.
Spectacular Roman architecture can be seen throughout the region, see the Theatre at Orange, the arenas at Arles and Nîmes (the latter used to be flooded for naval battles!) and the breathtaking Pont du Gard aquaduct.
The architectural glory of La Belle Epoque can be witnessed at Monte-Carlo's Casino and Opera, at The Négresco in Nice and at Cap Ferrat's Musée de Rothschild. Take yourself back to when the Riviera was the playground of Europe's royalty and nobility.
Cannes
Best seen outside May's Festival International du Film when the world's paparazzi descend to photograph the rich and famous on their yachts, or ascending the red carpet of the Palais des Festivals to join the pantheon of cinematic gods. More worthwhile are the all-day screenings of new films in cinemas all over town. In the nearby Allée des Stars you can see the handprints of Palmes d'Or winners captured for posterity in the pavement! Their owners without doubt stayed at the Carlton Hotel – an architectural jewel with a sumptuous Rococo dining room and worth a visit on any pretext!
Ironically, outside of the festival, the casinos and the luxury boutiques of Boulevard de la Croisette, Cannes feels very down-to-earth. It is a more relaxing experience than Nice; smaller, quieter and with sandy beaches, enjoy the morning flower market and the fresh provençal produce of Marché Forville. Catch a boat from the harbour and in 15 minutes you are in the pine and eucalyptus scented haven of the Iles de Lérins – the mysterious Man in the Iron Mask was imprisoned in the fort and took the secret of his identity to the grave.
Top Tip: while some of Cannes' beaches are private or belong to hotels, there is a free public beach next to the Palais des Festivals and there are miles of white sandy beaches just around the headland in the direction of St. Tropez.
Monaco/Monte-Carlo
This tiny principality, ruled by the Grimaldi dynasty since 1297, is smaller than New York's Central Park. With nowhere to build except up, it resembles a fantasy wedding cake with layer upon layer of apartment blocks jostling each other for a better view of the sea. It's happy subjects pay no taxes and enjoy the world's highest per-capita income. If you want to join them, if only for a day, then drive in along the Moyenne Corniche – one of the world's most beautiful coastal drives. Relive the Belle Epoque of English lords and Russian Grand Dukes at Monte-Carlo's sumptuous Casino and Opera House, and sample the Art Deco delights of Le Café de Paris. Visitors come from all over the world for the Monte-Carlo Rally in January and the Monaco Grand Prix in May.
Antibes
Central to the principal towns of the Riviera, Antibes is a superb base from which to visit its busier neighbours. There is a lovely market, harbour and sandy beach. Picasso had a workshop in Château Grimaldi, it is now a museum in his honour and houses over 50 of his works.
St-Tropez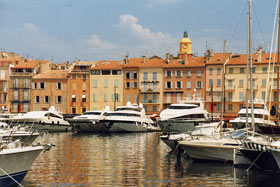 St Tropez by Phyllis Bbuchanan
Unspoilt by its celebrity status, 'St. Trop' is still a charming provençal village with fishermen's houses, tackle shops and boats sharing the harbour with the luxury yachts of less bona fide residents. Behind the port-side cafés of Quai Jean Jaurès (Senequier being the most famous) there is a pleasing maze of bustling streets with classy boutiques and restaurants. Catch the morning market on Place des Lices and watch the locals play boules over a coffee at Café des Arts. Other celebrity watering holes include Café de Paris and Le Gorille.
For the best view in town, take to the ramparts of the 16th-century citadel and enjoy the quiet of the Ponche quarter and La Fontanette beach which leads to a coastal walk. The beach on which to see and be seen is just outside town – the golden curve of Pampelonne. The Musée de l'Annonciade is a worthy pilgrimage for art cognoscenti and amateurs alike with superb Post-Impressionist works from Signac, Bonnard and Camoin.
St-Tropez was named after the Christian whose headless body arrived in a boat in AD.68 - he had been beheaded by the Romans for refusing to recant his faith.
Aix En Provence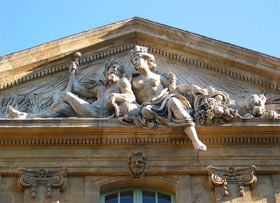 The ornate architecture of Aix by Steve Wilde
Perhaps the most beautiful town in Provence, formerly the capital, it remains a capital of good taste. Cours Mirabeau, arguably the most beautiful boulevard in France, preserves her languorous beauty under a parasol of Plane trees. Walk her broad pavements, admire her many honey-coloured mansions, listen to her fountains, enjoy the caress of the sun as it plays hide and seek through her leafy canopy and repose a while on the terrace of her famous 18th century café Les Deux Garçons. Succumb.
The old heart of this 'city of a thousand fountains' is found around Place de l'Hôtel de Ville, there is a colourful flower market in front. In the vicinity are the grandiose Pavillon de Vendôme, housing provençal furniture and art by Van Loo; Cathédrale St-Sauveur with its 16th-century walnut doors and 15th-century triptych of The Burning Bush; and the Musée des Tapisseries housing sumptuous 18th-century tapestries.
The Musée Granet has works by Aix's most famous son, Paul Cézanne; his studio, Atelier Paul Cézanne, is a short walk away and is as he left it when he died in 1906. The Montagne Ste-Victoire that inspired so many of his paintings is 15 km east of Aix.
Avignon
The wealth and treasures of the 14th Century Popes were guarded not in the Vatican, but within the massive 3 mile long ramparts, 39 towers and 7 gates of Avignon. Now more receptive to visitors, the fortress-like Palais des Papes, effectively the Vatican during the rule of the seven French popes from 1309 to 1377, offers a glimpse into the opulence of the medieval papacy. The Petit Palais, once the Archbishop of Avignon's residence, is now a museum and includes paintings by Botticelli and Carpaccio. There is a wealth of museums with the Musée de Petit Palais housing Avignon's medieval collection including the exquisite 1457 Vièrge de Pitié. And don't miss the famous 12th-century bridge Pont St-Bénézet, inspiration behind the children's song 'Sur le pont d'Avignon'. Don't count on it to cross the river though as most of its arches were swept away in the floods of 1668.
The Place de l'Horloge – named after its Gothic clock tower – is the centre of Avignon's street culture, with pavement cafés, buskers and a merry-go-round from 1900. Take a stroll down one of the prettiest cobbled streets Rue des Teinturiers, the original home of many of the brightly coloured provençal patterns still on offer to tourists today. In July the streets and squares are filled with dance, theatre, mime, opera and classical music when the international Avignon Festival comes to town. (See Festivals)
Marseille
France's largest port and second city is a colourful exotic mix of people and culture, with traditional links to France's former north African colonies. Alexander Dumas called Marseille 'the meeting place of the entire world'.
The view of the city and the port from the basilica of Notre Dame de la Garde is truly spectacular. Experience the sights, smells and sounds of the morning fish market on the Vieux Port and regale yourself with Marseille's famous bouillabaisse (see food and drink) in one of the harbour restaurants. Ready for some shopping? Take the famous Canebière boulevard into town and explore the city's commercial heart. There are countless museums with the Musée des Beaux-Arts perhaps the finest, graced not only with works from Flemish and Italian masters (including Rubens), but also Marseille's sons Puget and Serre - the latter's paintings depict the plague of 1720 when half the population died.
Nimes
An intriguing mix of ancient and modern architecture greets the visitor, from the unrivalled Roman amphitheatre (Les Arènes) which saw gladiatorial combat, chariot racing and even naval battles (it could be flooded), to an astonishing bus stop by Phillipe Starck. Similarly the Maison Carrée, the world's best preserved Roman temple is reflected in the glass and steel of the arts complex opposite - the Carrée d'Art designed by Sir Norman Foster in 1993. Other Roman treasures include the Roman gateway, the Porte Auguste (15 BC) and the Castellum, used for storing and distributing water carried to Nîmes via Le Pont du Gard. Take care to remember your hat, Nimes lies in a natural 'cuvette' or basin and becomes a furnace in the heat of summer.
Grasse
The centre of the perfume industry, visit perfume houses and museum.
Mougins
An old hilltop town with photos by Doisneau and Lartigues in the Musée de la Photographie, Musée de l'Automobiliste and the Moulin de Mougins for fine dining.
Port Grimaud
A car-free 'Provençal Venice' built in 1966 – reminiscent of a Portmeirion on water.
St Paul De Vence
This medieval perched village was built inland to avoid Saracen attack, its hidden beauty was discovered in the 1920s by artists such as Modigliani. The village remains a magnet to artists and its winding streets are full of galleries and studios, the local museum houses a superb photographic gallery of the many celebrity visitors over the years. If funds allow, stay or dine at The Colombe d'Or (Golden Dove) and gaze at originals by Matisse and Picasso – this auberge has built up one of the finest 20th-century art collections from works given in lieu of payment! Just outside the village is Fondation Maeght – one of the world's best modern art galleries with works by Miro, Chagall, Giacometti and Braque.
Food
Bouillabaisse - a fish soup consisting of monkfish, mullet, snapper, conger eel and rascasse with tomatoes, saffron and olive oil; the broth is served with croutons which should be spread with rouille (a spicy mayonnaise), pissaladière (a provençal pizza), salade niçoise, lamb from the salt marshes of the Camargue, Daube de boeuf (beef in red wine from the Camargue) Ratatouille (a vegetable stew cooked with olive oil, herbs and garlic) Aïoli (garlic mayonnaise) Socca (a pancake made with chickpea flour, olive oil and pepper), Soupe (or pasta) au pistou (sauce of basil, garlic and olive oil), figs from Marseille, citrus fruits from Menton, melon from Cavaillon, olives, olive oil.
Drink
The sun-baked stones found among the vines of the southern Rhône retain the day's heat and give it out during the night. These natural storage heaters help produce intense, spicy red wines, the best of which is God's representative on earth Châteauneuf du Pape. Reds from other named Côtes du Rhône villages can, from certain vignerons, be nearly as good, try Gigondas and Vacqueyras. The Mediterranean coast offers a range of lighter fruity wines including splendid dry whites from Cassis and rosés from Bandol (vin gris) – the latter also produces some robust long-lived reds. The Côtes du Lubéron produce some excellent reds and whites, while Muscat de Baumes de Venise (a vin doux naturel or naturally sweet wine) is actually a fortified white wine - delicious as a chilled apéritif, with dessert or as an after-dinner liqueur. And don't forget pastis, the traditional aniseed-flavoured spirit served as a long drink – watch as it turns milky when ice and water are added for your apéritif.
Events and Festivals
Cannes Film Festival (May); Grand Prix de Monaco (May); Monte-Carlo Rally (January); Nice Carnival (the 2 weekends leading up to Mardi Gras (Shrove Tuesday) - colourful costumed processions with flower-decked floats and confetti battles, all-night parties and balls in hotels and public venues; Open Tennis Championships (Monte-Carlo); Festival d'Art Lyrique (Aix-en-Provence, June and July) open-air classical music and opera staged in the courtyard of the Archbishop's Palace; Festival d'Avignon (July) the papal city hosts the largest arts festival in France celebrating theatre, music, dance and film. The fringe style 'Avignon Public Off' brings over 500 events to over 100 venues; Chorégies d'Orange (all July) Orange's open-air opera season is staged in the accoustically perfect Roman theatre; Festival International de la Danse (Cannes, biennial November) contemporary dance and ballet; Les Rencontres Internationales de la Photographie (Arles, July); Bullfighting (Arles & Nimes, Easter to September) the provençal corrida or bullfight merely involves unfixing a cockade from the bull's horns, make sure it is not a Spanish style mise à mort contest; Les Journées Médiévales (Entrevaux, biennial August) in 2006 the town will be en fête with 16th- and 17th- century music; Le Festival de Musique (Menton, all August) chamber music in the square; Festival de la Navigation de Plaisance (Cannes, September) annual meet for yachts from around the world; jazz festivals in Nice, Juan-les-Pins and Toulon (July); Fête de la St-Marc wine contest (Châteauneuf du Pape, April); Fête du Vent (Marseille, September) the skies are a-flutter with kites from around the world; Festival du Cirque (Monaco, end of Jan) circus shows from around the globe; Fête du Prince (Monaco, 19 Nov) the Principality celebrates its national day with a firework display over the harbour; Fête de St-Jean (June 24) and Bastille Day (July 14) are feted throughout the region with spectacular firework displays – just choose your backdrop. Oh and for football lovers there are two top teams: Olympic Marseille and Monaco!
Skiing
Just one hour away from the coast, there are more than 20 skiing resorts set in the breathtaking scenery of the Alpes d'Azur. The three principal resorts are Auron, Isola 2000 and Valberg (see below). The après- ski includes ice-skating, snowmobiles, horse-driven buggy rides (in Auron and Isola 2000) and Alpine specialities like melted cheese raclette and vin chaud. Oh, and night skiing (in Isola 2000 and Valberg)! We recommend Isola 2000 as the resort with the best mix of access to the slopes and après-ski activities – these include an aquatic centre with sauna and Jacuzzi.
Auron
Altitude: 1,600m – 2,100m
Location: 97 km from Nice via RN 202 & D 2205
Ski Runs: 5 black, 14 red, 13 blue, 4 green
Ski Lifts: 23 including 8 chair lifts and 3 cable cars
Tel: 04 93 23 02 66 or alternatively visit: http://www.j2ski.com/ski_resorts/France/Auron.html
Isola 2000
Altitude: 1,800m – 2,610m
Location: 90km from Nice via RN202, D 2205 & D97
Ski Runs: 5 black, 16 red, 18 blue, 7 green
Ski Lifts: 23 including 10 chairlifts, a cable car and Funicular railway
Tel: 04 93 23 15 15 or alternatively visit: http://www.j2ski.com/ski_resorts/France/Isola_2000.html
Valberg
Altitude: 1,470m – 2,100m
Location: 81km from Nice via RN202, CD28, CD202 & CD30
Ski Runs: 12 black, 22 red, 13 blue, 11 green
Ski Lifts: 26 including 6 chair lifts
Tel: 04 93 23 24 25 or alternatively visit: http://www.valberg.com/index.php?&_lang=GB
For further information contact Ski France, Tel: 04 147 42 23 32 or visit www.skifrance.fr
In summer Auron and Isola 2000 offer walking, swimming, cycling, horse-riding and other activities under the aegis of the Parc National du Mercantour.
Departments
Alpes-Maritimes (includes the Côte d'Azur), Alpes-de-Haute-Provence, Hautes-Alpes, Bouches-du-Rhône, Var, Vaucluse
Transport Links
By Air
Nice-Côte d'Azur, Marseilles-Provence, Avignon-Caumont and Nimes-Arles-Camargue airports. Nice-Côte d'Azur International Airport is the second busiest in France and only 8km from the centre of Nice. Terminal 1 is for international flights and in arrivals you will find 2A Services (Accueil Affaires) with multi-lingual hostesses who can make arrangements for business travellers. Tel: 04 93 21 45 15 or visit www.niceairport.fr
By Road
from Calais there is an autoroute (motorway) all the way to Provence and the Côte d'Azur. To avoid congestion around Paris, it is best to take the A26/A5/A31 route and then rejoin the A6 just north of Dijon. Calais to Nice is around 1220km and will take around 11 hours to drive – don't forget there are motorway tolls. If what you see on the way is more important than journey time, then take the excellent toll-free N (national) and D (departmental) roads and stop off (and stop over) where your fancy takes you. For Eurotunnel and Motorail services see 'By Train' below. For traffic conditions in peak season (especially 14th July and 15th August) consult www.bison-fute.equipement.gov.fr
Car Ferries
Now overtaken in popularity by Eurotunnel (see below) the cosy conspiracy of Dover-Calais ferry operators has been rocked by the advent of Speedferries who, at the time of writing, are offering Dover-Boulogne single fares from £25 for a car and 6 occupants. See www.speedferries.com. Their somewhat miffed rivals can be consoled on www.hoverspeed.co.uk , www.POferries.com and www.seafrance.com.
Longer crossings for ports in Normandy and Brittany are more expensive but allow you the time to put your feet up, or even get your head down. For services from Portsmouth to St-Malo, Cherbourg, Caen and Le Havre contact www.brittany-ferries.com or www.POferries.com; and from Newhaven to Dieppe try www.hoverspeed.co.uk or P&O.
By Train
Drivers can take Le Shuttle across the channel with Eurotunnel's 4 roll-on, roll-off crossings an hour. Folkestone to Calais/Coquelles takes just 35 minutes and you exit straight onto the motorway (see www.eurotunnel.com). With Motorail you can board the train with your car at Calais and arrive in Avignon or Nice as fresh as a daisy (see www.frenchmotorail.com and www.railsavers.com).
Rail passengers without a car can take Eurostar from London Waterloo to Paris or Lille. Then change to an SNCF (French national railways) TGV (Train à Grande Vitesse) and travel direct to Avignon, Marseille, St-Raphaël or Nice. See www.eurostar.com and www.sncf.fr.
For travel on other intercity (Grandes Lignes) or regional (TER) trains contact the Rail Europe Travel Centre in Piccadilly on 08705 848848 or at www.raileurope.co.uk
By Coach
Avignon and Nîmes are served six times a week in summer and the Côte d'Azur three times a week with a change of coach in Lyons. Contact National Express at www.nationalexpress.com.