A guide to Poitou-Charentes
Long overlooked by British buyers in favour of neighbouring Dordogne, Poitou-Charentes offers better value for money and represents a gilt-edge opportunity for the discerning buyer.
Second only to the Côte d'Azur in annual days of sunshine, the region boasts 300 miles of beautiful coastline, has international airports at La Rochelle and Poitiers and is only 5 hours drive from St. Malo.
Chief among the attractions are Le Marais Poitevin, France's own rural Venice; the charming, ancient port of La Rochelle; the enchanting Isle de Ré; the lush wooded valleys and hazy vineyards of world famous Cognac and the region's vibrant capital city, Poitiers, with its exciting Futuroscope theme park.
The region also has a rich cultural heritage, from the Roman arch and amphitheatre at Saintes to the medieval churches at Poitiers and Parthenay which provided spiritual sustenance to pilgrims on the route to Santiago de Compostela. Sustenance of a different kind is in abundance in the region's cornucopia of freshly caught 'fruits de la mer' which are celebrated in the region's culinary specialities.
So enjoy Poitou-Charente's long hot summers and mild winters over a glass of Cognac on your terrace and congratulate yourself on choosing the French region which offers the buyer the optimum mix of climate, quality of life, ease of access and affordability.
Poitou-Charentes Departments
Charente, Charente-Maritime, Deux-Sèvres, Vienne
Major Towns in Poitou-Charentes
La Rochelle, Poitiers, Niort, Angoulème
What to see in Poitou-Charentes
La Rochelle
With its majestic port, beaches, medieval cobbled streets and chic shops recessed into arcaded walkways beneath fine 18th century town houses, La Rochelle really does have something for everyone. Its harbour is home to the biggest yachting centre on France's Atlantic coast.
The entrance to this glorious old harbour is protected by its erstwhile sentinels, the 14th century Tour de la Chaine and Tour St-Nicolas – a huge chain used to be strung between the two towers to prevent unwelcome visitors. They were well to be wary, in 1628 twenty three thousand citizens were starved to death during Cardinal Richelieu's siege of La Rochelle. The modern visitor is much more likely to succumb to a sudden onset of gout.
To get an overview of the city, climb the 15th century Tour de la Lanterne and check out the maritime graffiti left by prisoners in the 17th-19th centuries. Visit the Hôtel de Ville (but don't try to check in) and admire the richly decorated 16th century courtyard façade. Though a nosegay is no longer required in modern-day La Rochelle, follow your nose to the parfumerie 'Musée du Flacon à Parfum' in rue du Temple.
Well worth a visit is the huge Aquarium next to the Vieux Port where visitors walk through transparent tunnels and get up-close-and-personal with sharks and other creatures best encountered on dry land.
Isle de Ré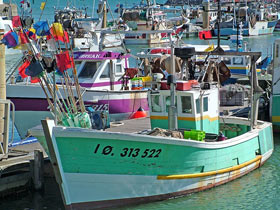 Isle de Ré by Oléron Ludovic Landry
Haunt of well-heeled Parisians and celebrities fleeing the paparazzi, Isle de Ré is the chic yet understated 'St Tropez of the North'. Reached by toll bridge from La Rochelle, the 30 kilometres long island is a fiercely protected site where glitzy high-rise buildings and tawdry advertising hoardings are just not allowed. These seemingly draconian planning laws have ensured that Isle de Ré has remained the most discrete and consequently the most expensive jewel of France's Atlantic coast.
The beauty of the island's natural scenery is perfectly complemented by its charming villages with their white-washed houses (no other colour is allowed), their terracotta roof tiles and their pastel blue and green shutters. A picturesque riot of colour is injected by the residents who adorn their houses with hollyhocks and four-o-clock flowers in floral rebellion.
The island's beauty and climate, together with its close proximity to La Rochelle with its enviable transport links, makes this a much coveted location for second home buyers and investors looking for an all-year-round return.
The most memorable way to explore the island is by bicycle and there are 100 kilometres of dedicated cycle paths to choose from. The varied landscape is just waiting for you to explore it; from the long beaches, sand dunes and pine forests of the south coast, to the vineyards, market gardens and marshes of the north. In the centre lie Ars-en-Ré and the island's main town St Martin de Ré with its plethora of seafood restaurants where you can indulge yourself on the locally farmed oysters. Possibly the best beach is at the western end by the lighthouse Phare des Baleines.
The island's Lileau-des-Niges nature reserve is home to almost three hundred species of birds and many more 'twitchers' who flock here to see them.
Isle d'Oléron
France's second largest island after Corsica, Isle d'Oléron is a very popular holiday resort. Its ocean-facing Côte Sauvage has excellent beaches at Vert Bois and at Grande Plage near the fishing port of La Cotinière. The coast facing the mainland is a little tamer and its ancient wetlands and salt marshes have been converted into "Claire" oyster beds – home to the island's famous Marennes-Oléron oysters. Moving inland the bright colours of the wooden oyster huts soften to subtler hues as you discover the resident's low white houses with their pastel shutters and mimosa and hollyhocks dance attendance on the scene.
* Charente-Maritime has no less than six seafront thalasso (sea-water) therapy centres where the mineral-rich water and treatments help harmonise body and mind and help real or imaginary patients back to fitness and vitality. Contact French Property Centre for details.
Rochefort
Purpose built to France's greatest shipyard, Rochefort produced over 300 vessels a year in the 17th and 18th centuries. This rich maritime heritage can be explored at the Musée de la Marine - which displays models of all the ships ever built in the arsenal – and at the beautifully restored Corderie Royale (royal ropeworks) which features a fascinating ropemaking exhibition. Visit the lifesize replica of the Rochefort frigate which famously helped America gain its independence; the 65-metre long Hermione is being built again, learn about the techniques of traditional ship building on what is a unique construction site.
Don't miss the exuberant and whimsical Maison de Pierre Loti, witness the exuberant décor which so perfectly mirrored Rochefort's most flamboyant son, the writer Pierre Loti.
* Off the coast between La Rochelle and Rochefort lies Fort Boyard which was built by Napoleon to guard the mouth of the Charente. Once used as a prison, this imposing bastion encircled by the sea has since found fame as the eponymous star of the Fort Boyard television programme.
Saintes
Exploring Saintes is like opening a book on the last two thousand years of French history. Finding the town at the intersection of the river Charente and their great road linking Lyon with the Aquitaine region, the Romans appreciated its strategic importance and invested it with imposing monuments reflecting the glory of the empire.
Be sure to see the 1st century Roman amphitheatre Les Arènes built by Claudius in 40AD. It could hold some 15,000 spectators who, along with notables, gladiators and lions, entered the arena by the Porte des Vivants; the victims were carried out feet first through the Porte des Morts at the opposite end. Though a slightly macabre venue for an evening's entertainment, don't miss the open-air Sites en Scène shows in August.
The Arc de Germanicus (AD 19) is a spectacular Roman arch which used to mark the entrance to the bridge which carried the great road over the river Charente. Next to the arch, the Musée d'Archéologie – appropriately housed in a former abattoir – exhibits just a small selection of Saintes' enormous collection of Roman finds.
The medieval period also blessed Saintes with a rich cultural heritage. Eglise St-Eutrope was dedicated to the unfortunate bishop Eutrope who preached in the area before being stoned and beaten to death by the locals. The same locals then preserved his relics in the crypt of the church which they built to venerate his name and redeem themselves. There are fine Romanesque arches and capitals as well as Gothic additions bestowed by Louis XI who believed the church cured him of dropsy. The Abbaye aux Dames (1047) is another medieval gem while the 18th century Cognac merchants built many fine private mansions which now line the town's chic streets.
Always the artery through which Saintes' life-blood has flowed, the river Charente now welcomes tourists on board the same traditional flat-bottomed vessels (gabares) which once carried the barrels of the Cognac which ensured the region's prosperity. The meadows running along the banks of the river penetrate almost into the heart of the town.
Situated between Saintes and Cognac, the benedictine Abbaye de Fontdouce provided a tranquil stop-over for pilgrims on their route to Santiago de Compostela. The monks' living quarters are still intact as are some fine, vaulted Gothic rooms. Summer visitors will be hansomely rewarded if they take in one of the abbey's open-air evening classical or jazz concerts. Visit www.fontdouce.com
Marais Poitevin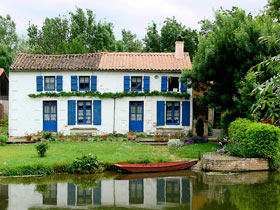 The Green Venice (Marais Poitevin) by Larsz
The Marais Poitevin or 'The Green Venice' is a beautiful labyrinth of navigable green waterways adorned by waterlillies and irises. This is Deux-Sèvres' top beauty spot and tourist attraction. The local maraîchins or marsh dwellers use their flat-bottomed boats (plattes) to navigate their way around in just the same matter-of-fact way as we would take the car. Don't be surprised to see cows being ferried around quite nonchalently by local farmers – a unique and unforgettable pastoral scene.
If you want to punt around and explore this enchanting and unique regional park you can rent a boat – with or without guide – from Coulon (the largest and best equipped starting point), St. Hilaire la Palud, La Garette or Arçais. Damvix and Maillezais in the Vendée are also starting points. Top Tip: Remember your insect repellant.
Parthenay
An otherwise sleepy Deux-Sèvres town with a cobbled, half-timbered medieval quarter, Parthenay is transformed on Wednesday mornings when France's second biggest livestock market comes to town. The 12th century church of St-Pierre de Parthenay-le-Vieux is a fine medieval church with a Poitevin façade featuring Samson and the lion.
Other highlights in Deux-Sèvres include Niort's huge 12th century donjon built by Henry II and Richard the Lionheart to keep the French out of their own country! Nearby St-Maixent-L'Ecole is famous for its beautiful, Flamboyant Gothic style abbey; the town also has a military academy and museum and a thriving farmers' market. To the west are the Tumulus de Bougon burial mounds dating from 4500 BC and to the south, Melle's chief attraction is the 12th century église St-Hilaire which is in a delightful riverside setting.
Poitiers
Poitiers is a city which can tell us many colourful tales about its rich past but which today gets us much more excited about our future. It was here that the Black Prince defeated France's king Jean le Bon in 1356 and where the Saracens were also defeated - thereby halting the northern march of Islam. If you only choose one church to see in Poitiers make it the majestic Notre-Dame-la-Grande with its spectacular polychrome façade and colourful geometrical patterns on its interior pillars.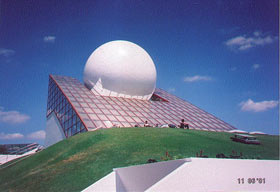 Futuroscope (Poitiers) by Carlos Luna
But today Poitiers is more famous for Futuroscope – a sci-fi vision of steel and glass which rises out of the surrounding fields like an extra-terrestrial visitor. This is a magnificent futuristic theme park with simulators, 3D experiences and 360°screens. Don't miss the "magic carpet" cinema where the screen on the floor leaves visitors with the distinct impression that they are indeed flying. Futuroscope has the biggest cinema screen in Europe and the park is such an attraction that it has its own TGV station.
* Military historians wishing to revel in the Black Prince's famous victory should head first for the Abbaye de Nouaillé-Maupertuis. From here take the D142 and turn right down the small road to La Cardinerie which leads to the river crossing at Gué de L'Omme which was the epicentre of the battle. Don't miss the monument half way up the hill which marks the spot whre the heaviest fighting took place and where the French king Jean le Bon was captured.
Other sights to see in Vienne include the hilltop town of Chauvigny with its 11th-12th century Eglise St-Pierre; the Château de Touffou, a Renaissance masterpiece with terraces and hanging gardens on the banks of the Vienne and the 12th century UNESCO recognised frescoes in St-Savin's abbey church. These still vividly coloured wall-paintings show Old Testament scenes such as the Creation, Noah's Ark, the Tower of Babel and the Parting of the Red Sea.
Angoulême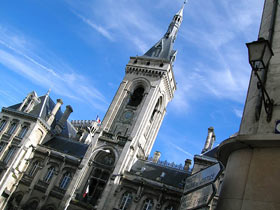 Angoulème by Cerfman17
Angoulême is the hilltop city where in 1200 England's King John (later to sign the Magna Carta) took a fancy to and married the 12 year old Isabella of Angoulême. This did little to endear him to the French. The ramparts offer envigorating walks and splendid views over the Charente valley below. Attractions include the 12th century Cathédrale St-Pierre which features a Romanesque frieze on its façade and Angoulême's Hôtel de Ville (Town Hall) which retains the 15th century tower which was once part of the town's ancient château. The capital of the département of Charente, Angoulême is also the unlikely meeting point for afficianados of comic-strips, its Centre National de la Bande Dessinée et de l'Image has a unique collection of French comics and cartoons dating back to 1946.
Cognac
Famous the world over for its brandy, Cognac's medieval heart remains in and around the chateau on the banks of the Charente. Here you can walk along narrow cobbled streets between medieval and Renaissance houses and breathe in the heavy scent of spirits evaporating from oak casks just as they have done for centuries. This heavy aroma – referred to as the "angel's share" – has actually permeated the locally quarried white stone of the houses and given them their characteristic hue.
All the famous Cognac houses are here: Otard (in the Chateau), Hennessy (which ferries visitors between sites on both sides of the river), Martell (in the old part of town), Courvoisier and Rémy Martin - which is 4 km outside the town walls.
* Epicureans can follow the "Etapes du Cognac" itineraries, these trails lead you from village to village at your own pace and divulge the secrets of what Victor Hugo called the "liquour of the gods". The green 'Cognac and Vine' trail covers the transformation of grapes into eau-de-vie as you journey from vines to distillery; the blue 'Cognac and River' trail explores the river ports which delivered the precious cargo to sea for export; and the golden 'Cognac and Stone' trail winds through some of the wine-producing villages and is punctuated by Gallo-Roman ruins and châteaux.
Food and Drink in Poitou-Charentes
The local "Claires" oyster beds produce the famous Marennes d'Oléron oysters with red label quality for the "Pousse en Claire" and "Fine de Claire" varieties. Bouchot mussels from the Aiguillon Bay are another world-famous, mouthwatering delicacy. They form the basis of two regional dishes; the mouclade (mussels steamed in white wine with shallots, garlic and herbs) and the éclade (mussels barbecued under a blazing pile of dry pine needles.
Cognac, the world-renowned, triple distilled brandy produced from blending the eaux –de-vie of different ages and Charente origins (Grande Champagne, Petite Champagne, Borderies, Fins Bois, Bons Bois and Bois Ordinaires). Only white grape varieties are allowed: ugni blanc (95%), folle blanc and colombard (5%). A three-star cognac must be two to three years old, a VSOP at least four, a Napoleon eight and and an XO ten. Pineau de Charentes is a distinctive and unique liqueur made from blending Cognac with freshly pressed grape juice; Vins du Haut Poitou (reds and whites), Vins de Pays Charentais (whites).
Getting to Poitou-Charentes
By Air
Fly to La Rochelle with...
Ryanair from Stanstead and Dublin
Flybe from Birmingham and Southampton
easyjet from Bristol
Fly to Poitiers with...
Ryanair from Stanstead
! Certain areas of Poitou-Charentes are closer to the airports of other regions:
Fly to Angers with...
Flybe from Southampton
Fly to Tours with...
Ryanair from Stanstead
Road
Paris > Orleans > Tours > Poitiers > Niort > Saintes
COACH: Eurolines (08705 186186, www.eurolines.com) offers services to Angoulême, La Rochelle and Poitiers
Rail
London Waterloo / Ashford > Eurostar > Paris Nord > Metro > Paris Gare Montparnasse > (TGV) à Poitiers / La Rochelle / Angoulême
Contact Rail Europe (08705 848848, www.raileurope.co.uk) for details
Events and Festivals in Poitou-Charentes
Francofolies (La Rochelle, July), Festival International du Film (La Rochelle, June/July), Confolens International Festival of Folklore (August) Angoulême vintage car race (mid September), Festival International de la Bande Dessinée d'Angoulême or Comics Festival (January), International Kite Flying Festival (Châtelaillon beach, April), Offshore F1 World Championship (La Rochelle, May), International Sailing Week (La Rochelle, May/June), Jet-ski Offshore World Championship (Ile d'Oléron, June), International Film Festival (La Rochelle, June/July), International Show Jumping (Royan, July), Quad bikes French Championship (St-Jean-d'Angély, Jazz entre les deux tours (La Rochelle, October).