A guide to Midi-Pyrénées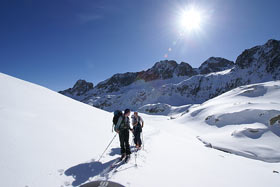 Skiing in the Pyrénées by Etienne Portelance
This vast and extremely diverse region offers 8 departments which resemble other more famous corners of France in every respect apart from one – property prices!
Put simply your money goes further here: if you're priced out of the Alps, consider the mountains and ski resorts of the Midi-Pyrénées, if your heart was set on the Dordogne take a look at the Lot, and if Provence was your first love you will find an equally beautiful but less expensive amour in the Tarn or Aveyron.
The great outdoors is the chief attraction. Whether relocating or buying to let, the Pyrénées offer all-year-round activities from skiing in winter to spectacular backdrops for walking, cycling, climbing and fishing whenever the mood takes. The Tarn and the Lot are famous for kayaking while golfers have three courses around Toulouse and others at Albi and Rodez. You are also much closer to beaches of the Mediterranean or the surfing of the Atlantic than those who buy in the Alps.
Add to this mix beautiful fortified towns, breathtaking valleys, sacred Lourdes, the famous pilgrimage route to Santiago de Compestella and the elegance of cosmopolitan Toulouse and you have some idea of the region's as yet unrealised potential.
Midi-Pyrénées Departments
Ariège, Aveyron, Haute-Garonne, Gers (historically Gascony), Lot (historically Quercy), Hautes-Pyrénées, Tarn, Tarn-et-Garonne
Major Towns in Midi-Pyrénées
Toulouse, Foix, Auch, Tarbes, Montauban, Cahors, Rodez
What to see
Lot
Rocamadour is a breathtaking vision of medieval houses, towers and battlements seemingly climbing up a steep rock face to the château overlooking the Alzou valley below. The site has been a centre of pilgrimage since St. Amadour's body was found in the cliffs in 1166, pilgrims can pause at 14 stations marking Jesus's journey to the cross as they climb to the château. Less devout visitors can take the funicular to the top.
Rocamadour Town is pedestrianised and its streets are lined with souvenir shops and all manner of temptations for the bon viveurs among the throngs of summer visitors.
The Gouffre de Padirac is an underground cave complex on a massive scale, the chamber known as the Salle du Grand Dôme would accommodate the tallest of cathedrals. Part of the trip is by gondola and you should allow one and a half hours for the trip. Top Tip: this far undergound it is always cold, even on the hottest summer day – bring your pullover! To find it take the D90, 15 km north east of Rocamadour.
Tarn et Garonne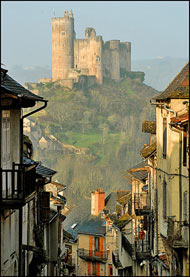 Najac by Sigfrid Lopez
Auvillar is a lovely hilltop village overlooking the Garonne on the famous pilgrimage route to Santiago de Compestella in Northern Spain. The fortifications that protected the village still exist and you can only enter by one of three ancient doorways. The galleried triangular 'square' in the centre is surrounded by grand 17th and 18th century residences and in its heart is the famous circular grain market – still the centrepiece of Sunday morning's farmers'market. Look out for the measuring holes for different commodities in the brickwork.
Nestling among the vineyards of golden Chasselas grapes which were once taken as a cure, Moissac is another charming village on the pilgrim's route. It is famous for the abbaye Saint-Pierre with its Romanesque tympanum depicting the Apocalypse over the southern doorway, the fifty carved capitals providing an 'Open Bible' to instruct worshippers and the cloister whose dedication stone can still be read - AD1100. Contemporary sculpture puts in an appearance in the stylised figures 'seated' on the public benches twixt cloister and abbey.
The Gorges de l'Aveyron provide dramatic scenery and lots of delightful riverside villages to visit, don't miss St. Antonin-Noble-Val (where much of Charlotte Gray was filmed) or Bruniquel 'one of the most beautiful villages of France' with a maze of narrow streets leadinng to the Medieval château which overlooks the Aveyron river below. Najac has a fine château, fine views and even finer restaurants.
Aveyron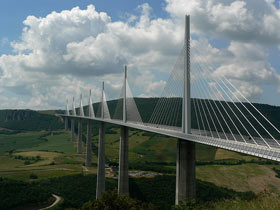 Millau Viaduct by Ian Williams
Designed to make you feel like you're driving in the clouds, the Viaduc de Millau is the world's highest road bridge and spans the valley of the River Tarn near Millau. Designed by British architect Norman Foster, at 343 metres it is higher than the Eiffel Tower and carries the four lanes of the A75 autoroute. One of the wonders of the modern world and a breathtaking drive! The perfect introduction to this up and coming département.
Tarn
When you have explored Albi's gargantuan Cathédrale Ste-Cécile and Musée Henri de Toulouse-Lautrec (Albi's most famous son), head for Cordes. This lovely hilltop village – full name Cordes-sur-Ciel – lives up to its name as a village 'in the sky'. Albert Camus wrote 'Everything is beautiful there, even regret.' The Jardin du Paradis transports modern-day visitors to similar raptures.
Haute Garonne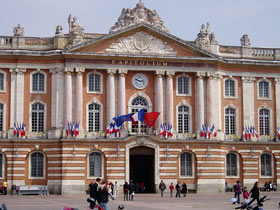 Harcourt in Toulouse by Denise Sackett
Known as La Ville Rose because of the pink hues of its brickwork, Toulouse is an enchanting city. It is more than just the capital of the region – it is a vibrant capital of art, architecture, gastronomy and shopping. Toulouse is a great city-break destination, best explored on foot. Focus on the Old Town around the huge 18th century Hôtel de Ville, place St-Georges and rue Alsace-Lorraine for that perfect mix of grand palaces, shops, bars and cafés. Don't miss the fleamarket held on Sundays in Place St-Sernin or Les Abattoirs – a modern and contemporary art centre which includes Picasso's 'La Dépouille du Minotaure en costume d'Arlequin' (1936).
As the centre of France's high-tech aerospace industry, ancient Toulouse is also graced with a cutting edge "space park" for visitors to explore the final frontier. Cité de l'Espace includes a planetarium, the Terradome film experience, a life-size Ariane rocket and many interactive exhibits.
Ariège
The fortifiied walls of all the region's 'bastide towns' enclose a grid of medieval houses and a central market square which was the hub of town-life. Mirefoix's square is one of the lovliest in France with 13th-15th century half-timbered houses seemingly perched on stilts above the supporting arcades. Relive the market square's hey-day amidst the bustle of Monday and Thursday's market.
Hautes Pyrénées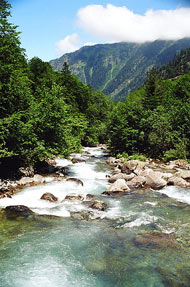 Cauterets by Jon Addison
The 100 km (62 miles) long Parc National des Pyrénées runs along the French and Spanish border. Here 350 km (217 miles) of well-marked footpaths and B&B huts enable visitors to explore the spectacular scenery of snow-capped mountains, deep lakes and lush valleys. Sightings of local wildlife such as ibex and vultures will be an unforgettable experience – encountering a Pyrenean Bear on a narrow mountain ledge will be more memorable still.
* Tips for walkers: for maps and information on huts offering meals and beds for the night, contact the Park Office at Cauterets (05 62 92 52 56) or at Luz-St-Sauveur (05 62 92 38 38) both open all year round. For those seeking an even bigger challenge, the national park is traversed by the GR10 long-distance trail which links the Atlantic with the Mediterranean and which is one of the great walks of France.
Whether you're climbing, skiing or walking, Cauterets is an excellent base for exploring the rugged mountains of the Bigorre region. From Gavarnie on the Santiago de Compostela pilgrimage route take the track to the Cirque de Gavarnie where the highest waterfall in Europe is encircled by eleven 3,000 m peaks. The Brèche de Roland, a breach in these seemingly impenetrable peaks, forms a spectacular geological gateway from France to Spain. For unrivalled views – this time of the universe – take the cable car from La Mongie to Le Taoulet and marvel at heavens from the Observatoire Pic du Midi de Bigorre.
Lourdes: Four million visitors a year follow in the footsteps of 14 year old Bernadetter Soubirous who in 1858 wandered into the Grotte Massabielle. Here she experienced 18 visions of the Virgin Mary and was led to a spring with miraculous healing powers. Subsequent miracles – endorsed by the church – are attributed to the powers of the holy water. Believer or non-believer, you will be enthralled by the nearby Grottes de Bétharram as you explore the vast caverns by underground boat and train.
Gers
Epicureans can taste the difference between Armagnac and Cognac at Comdom's Musée de l'Armagnac. If you are still in possession of your faculites, head for nearby Larressingle. This remarkably preserved fortified village is one of the last remaining Gascon villages with its walls – and seemingly everything else - still intact. The experience is more than the usual tour of ramparts, donjon and gateways – the fortifications seem to have held back time itself and you half expect to run into D'Artagnan as you explore its nooks and crannies.
Food and Drink in Midi-Pyrénées
Every region of France claims to be a gastronomic capital – and Midi-Pyrénées, with its cornucopia of goodies, puts forward a strong case for inclusion in the feasting firmament. Foie gras (goose-liver pâté) is a speciality in Gers and Lot, the former also home to the tenderest of lamb. Cassoulet de Toulouse is a stew of white beans, kidney beans and confit of duck sausage cooked in life-prolonging, Nigella Lawson endorsed, goose fat. Jambon (ham) from Najac and Naucelle, saucisses (the word sausage doesn't do them justice) Laucanes and Roquefort cheese are all products of the 'terroire'.
There are more than 15 AOC (Apellation d'origine controlée) wines in Midi-Pyrénées including the robust Cahors, Madiran, Gaillac and Fronton; also try the local vins de Pays des Côtes de Gascognes. The vineyards producing the region's world famous eau-de-vie, Armagnac, straddle the border between the Gers and the Lot-et-Garonne départements. Armagnac's single distillation produces a more complex and fragrant brandy than the better known Cognac – taste the difference for yourself wherever you see a battered Vente Directe sign outside a local farm or at Condom's Musée de l'Armagnac. Don't miss the aperitif called Quercy Noix, made from the Lot's abundant crop of walnuts.
Getting to Midi-Pyrénées
By Air
Fly to Toulouse with...
British Airways from Gatwick
Aer Lingus from Dublin
bmi from Manchester
easyjet from Gatwick and Bristol
flybe from Birmingham and Bristol
bmibaby from Manchester
Fly to Rodez with...
Ryanair from Stanstead and Dublin
! Certain areas of Midi-Pyrénées are closer to the airports of other regions:
Fly to Pau with...
Ryanair from Stanstead and Dublin
Fly to Bergerac with...
Flybe from Birmingham, Bristol, Southampton, Exeter and Leeds
Fly to Carcassonne with...
Ryanair from Stanstead and Dublin, Nottingham, Liverpool and Shannon
By Road
Paris > A10 > A20 > Toulouse
COACH: Eurolines (08705 143219, www.eurolines.com) offers services to Cahors, Lourdes, Tarbes and Toulouse
By Rail
London Waterloo/Ashford > Eurostar > Paris Nord > Metro > Paris Austerlitz > Toulouse (TGV)
Contact Rail Europe (08705 848848, www.raileurope.co.uk) for details
Events and Festivals in Midi-Pyrénées
Festival Garonne (Toulouse, July), Musique d'Eté (Toulouse, July/August), Festival Albi-Jazz (Albi, June), Carnaval (Albi, Lent), Fête des 400 Coups (Montauban, September), Festival Nez Rouges – Clown/Circus Festival (Saint-Orens-de-Gameville, first week in February)
There is also Jazz in Marciac, "les Orgues" (organ music) in Toulouse, Tempo Latino in Montauban and "Le Festival Lyrique" in St-Céré. Not forgetting the "Fête de la Truffe" (truffle fair) in Lalbenque, the flower market in Fourcès, the "Festival Bandas y Penas" in Condom as well as the "Flamme de l'Armagnac" and the "Fête du Chasselas" in Moissac celebrating Chasselas grapes
Skiing
There are 35 ski stations in the Pyrénées chain but the principal five in Midi-Pyrénées are all south of Tarbes. Piau-Engaly and La Mongie are family-friendly resorts and St-Lary-Soulan, Luz-Ardiden and Gourette also have thermal baths.