A guide to Aquitaine
With 180 miles of white, sandy beaches backing onto endless pine forests and picturesque lakes, coastal Aquitaine is in plentiful supply and so remains highly affordable. While this Atlantic coastline boasts the best surfing in Europe it also caters for traditional seaside activities in the family-friendly resorts of Arcachon and Biarritz. And, as the region extends south into the foothills of the Pyrénées, there is also good hiking and skiing on offer. In short, the region is a sound investment for those who can't decide between sea or mountain, or who want to offer both to paying guests.
In addition this is the world's largest wine-growing region with names like Médoc, St-Emilion, Pomerol and Sauternes surrounding the bustling, cosmopolitan port of Bordeaux which has spread their fame across the world. And then there's lush, verdant Dordogne, so beloved of the English, who conquered it in the Hundred Years' War and who have been so reluctant to leave ever since. Can you blame them?
Aquitaine Departments
Dordogne, Gironde, Landes, Lot-et-Garonne, Pyrénées-Atlantiques
Major Towns Aquitaine
Bordeaux, Perigueux, Mont de Marsan, Pau, Biarritz
What to see in Aquitaine
Bordeaux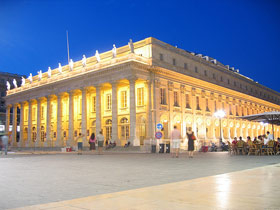 Grand Theatre - Bordeaux by Eastboca
Combining elegant 18th century architecture with a lively cultural scene and the opportunity to indulge in so many of the regions' gastronomic delights, Bordeaux is an epicurean or hedonist's delight. Best to undertake your cultural explorations before your first meal.
Must sees include the sumptuous 18th century architecture of the GrandThéâtre and the Place de la Bourse, and the magnificent bronze statues and fountains of the Monument aux Girondins on the Esplannade des Quinconces – in memory of the citizens sent to the Guillotine by Robespierre during the revolutionary Terror of 1793-5. If you tire of the spiritually uplifting Eglise St-Seurin, Basilique St-Michel and Cathédrale St-André, indulge yourself in the Musée des Beaux Arts with its works by Titian, Rubens, Renoir and Matisse, or visit the Musée d'Aquitaine with its 2nd century BC Tayac treasure and the Garonne treasure of over 4,000 Roman coins. Had enough culture for one day? Need some retail therapy? The chic boutiques and cafés contained within the triangle formed by Cours Clemenceau, Cours de l'Intendance and Allées de Tourny will let you shop until you drop.
St-Émilion
A charming village of narrow streets lined with medieval houses, St-Émilion is surrounded by its famous châteaux such as Figeac, Cheval Blanc and Ausone. The town was named after the 8th-century hermit, Émilion, who dug out a cave for himself in the rock. For slightly more comfortable surroundings, make a beeline for l'Essential wine bar where – if you can get over the gaudy décor – you can choose from a wide choice of great wines and where you might even bump into the winemakers who made them.
Bordeaux Wine
The alchemy of blending different grape varieties with the 'terroir' has reached its apogee in the wines of Bordeaux. The famous 1855 classification of Médoc's 'crus classés' (classed growths) provides a hierarchy or 'league table' of wine-producing châteaux that still holds good (with a few additions) today.
The five main red grape varieties are Cabernet Sauvignon, Merlot, Cabernet Franc, Petit Verdot (not a small glass of water!) and Malbec. On the gravelly soils west of the Gironde, Cabernet Sauvignon is the dominant grape in the blend; while on the clayey soils east of the Gironde, Merlot dominates. The main grape varieties for white wines are Sémillon and Sauvignon Blanc.
Medoc's most famous chateaux boasting 'Premier Grands Crus Classés' are: Château Lafite-Rothschild, Château Latour and Château Mouton-Rothschild (at Pauillac); Château Margaux (at Margaux); Château Saint-Estèphe (Cos d'Estournel) and Château Saint-Julien (Léoville Las Cases).
Also on the left bank, Graves' most famous chateau is Château Haut-Brion and Sauternes' is Château Yquem – the jewel of the appellation.
Head north out of Bordeaux on the D2 to see some of these famous chateaux – architectural highlights include the Neo-Renaissance Chateau Palmer, the Pallladian Chateau Margaux and the fairy-tale turrets and lakeside setting of Chateau Pichon-Longueville. See if you can spot Chateau Latour's medieval stone turret from the depiction on its famous label.
On the right bank Pomerol reaches its zenith at Château Pétrus and Saint-Émilion's finest wines are crafted by the chateaux of Cheval-Blanc, Ausone, Beauséjour-Bécot, Belair, La Gaffelière and Pavie.
Unless you have an official invite by way of a paid-for tasting or course (see * below), you will find it difficult to just roll up, taste and buy at some of these world-renowned chateaux. Happily many châteaux who produce wine cheek by jowl with famous neighbours – and who share their terroir - do positively welcome visitiors. Just outside St-Emilion try Château Fonplégade; and to the east, off the D243, try Château Balestard la Tonnelle and Château Mangot. Just across the river from Pomerol, is Lalande-de-Pomerol where - not far from Château Pétrus - Château des Annereaux and Château Haut Chaigneau will welcome you with open arms.
*La Maison du Vin and l'Office du Tourisme at Bordeaux and St-Émilion are essential for wine lovers seeking to understand the byzantine complexities of Bordeaux's chateaux system.They organise tastings, courses and excursions to some of the top chateaux such as Château Yquem.
l'Office de Tourisme de Bordeaux
Tel.(0)5 56 00 66 00 or resavisit@bordeaux-tourisme.com
L'Agence des Grands Crus
Tel. (0)5 57 22 16 31 or agence-des-grands-crus@wanadoo.fr
Maison du Vin de Saint-Émilion
Tel. (0)5 57 55 50 55 or info@vins-saint-emilion.com
Arcachon Bay
This beautiful natural lagoon has fine sheltered beaches and is perfect for holidaymakers, sailing enthusiasts and oyster-eaters. You can also climb Europe's biggest sand dune, Le Dune du Pilat, and skinny-dip in the sea to cool off afterwards!
The Dordogne and its prehistoric sites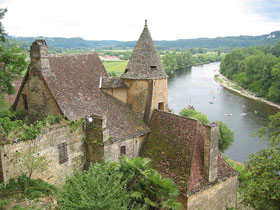 La Roque Gageac et la Dordogne by Enro
What the Brits call the Dordogne (after the river and Département's official name), the French themselves call the Périgord and it is split into four colour-coded parts.
In the north is the Périgord Vert, as its name suggests, a lush, green area with towns such as Brantôme and Ribérac and the river Dronne. The Périgord Blanc (named after the local limestone) covers the central area including Périgeux, the capital city of the département. Périgord Pourpre (so called because of the vineyards) is the southern area and includes the airport town of Bergerac, it is a heavily wooded area and has some fine châteaux and pretty medieval villages. Périgord Noir (after the black winter silhouettes of its many oaks) lies in the east, here the river Dordogne runs through an area famed for beautiful historic towns such as Sarlat, Le Bugue and St Cyprien, and for prehistoric sites such as Lascaux and les Eyzies-de-Tayac. The most famous inhabitant is the celebrate truffle – the 'black diamond' of the Périgord.
Brantôme
Extremely picturesque Brantôme is sometimes called the Venice of the Périgord Vert as it is surrounded on all sides by the river Dronne.
Périgueux
Capital of the Dordogne département, Périgueux is also a gastronomic capital and is best visited on market days (Wednesday and Saturday mornings) when its stalls groan under the weight of fruit, vegetables, charcuterie, truffles and the succulent pies called pâtés de Périgueux. La Cité quarter is built on the Gallo-Roman settlement of Vesunna, and the remains of a temple, villa and an arena can still be seen, as can other vestiges at the Domus de Vesonne museum which has just opened on the site.
In the medieval quarter of Le Puy St-Front you will find Cathédrale St-Front, the largest cathedral in South West France, and the Musée du Périgord. Many medieval and Renaissance dwellings can be found in rue Aubergerie and rue de la Constitution. Don't miss the unusual corkscrew staircase at No.3 rue Limogeanne.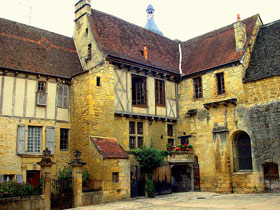 Sarlat by Ela2007
Sarlat is a living open-air museum with more medieval and Renaissance houses than any other town in France. Just follow your feet through the labyrinth of ochre-coloured cobbled streets and prepare to be enchanted. Don't miss Wednesday's sumptuous food market – one of the best in France. Nearby Lascaux's prehistoric cave paintings are world-famous – but they are copies designed to protect the originals.Those found in the various grottes (caves) around Les Eyzies are the genuine articles: bison, reindeer, horses, mammoths and men can be seen just as our ancestors left them – painted and engraved onto the rock. Those found in the 5 mile cave network at Rouffignac can be seen by an underground train – book weeks ahead in summer months!
La Roque-Gageac is officially one of France's most beautiful villages, set at the foot of the cliffs it gazes narcissistically on its own reflection in the waters of the Dordogne river.
Château Castelnaud is possibly the most impressive of the 300 medieval chateaux surrounding Sarlat in the Perigord Noir. It has unrivalled views over the valley and neighbouring châteaux of Marqueysssac and Beynac, has no end of battlements, hiding holes and winding staircases and boasts unusual features such as working smithies and its own medieval tavern! Château Castelnaud's impressive collection of ancient weaponry includes all manner of fiendish contraptions include the mangonel – the gigantic catapult used for hurling boulders. The collection inspired director Ridley Scott's battle scenes in the Oscar-winning film Gladiator.
Basque Country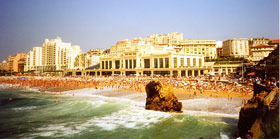 Biarritz by Gattospino
The chic resort of Biarritz boasts two casinos and one of the very last great luxury hotels in Europe – l'Hôtel du Palais. It also offers good family beaches, the best surfing in Europe and the Musée du Chocolat! Nearby St-Jean-de-Luz combines the charms of a Basque fishing village with boutiques worthy of rue du Faubourg St-Honoré in Paris. Don't miss the astonishingly beautiful Eglise St-Jean-Baptiste (where Louis XIV married) or fail to watch the world go by from Place St-Louis.
Leaving Basque country and approaching the foothills of the Pyrénées you will find lively, elegant Pau – the capital of the Béarn area. The most interesting town in the central Pyrénées, Pau enjoys a mild winter climate but great access to skiing in the Hautes-Pyrénées. In addition to the elegant Belle Epoque architecture and shady parks there is the Château de Pau with views of the snow-capped Pyrenean peaks and its fabulous 16th-century Gobelin tapestries. On his birth at the château, King Henry IV had his lips smeared with garlic and local Jurançon wine to ensure his future good health.
Landes Forest
Dax's world famous spa treatment centre is in Les Landes forest between the Atlantic Ocean and the Pyrénées. Its thermal baths and thalassotherapy treatments can be accessed from several hotels in the centre of this teeming town. Dax's hot springs, with a constant temperature of 64°c, have been soothing aches and pains since the time of Emperor Augustus.
Mont-de-Marsan
A bullfighting Mecca for the cogniscenti, Mont-de-Marsan also offers a less blood-thirsty variant – the course landaise – where the objective is to somersault over the horns of charging cows. Don't miss the astonishingly powerful sculpture La Force (1937) by Raoul Lamourdieu showing a herculean athlete wrestling with a bull.
Food and Drink in Aquitaine
Tourin (soup make of garlic, goose fat, and vinegar), Foie gras and truffles from Périgord; Bayonne's ham and piperade – a fluffy omlette mixed with ham, garlic and peppers – are both spiced with the Basque chilli pepper 'piment d'Espelette'. Confit de Canard (duck cooked and then preserved in its own fat); Duck with cèpes (made from confit, wild mushrooms and garlic); Rabbit casseroled with Agen's famous prunes; Homard persillé (lobster terrine) and touron (a Basque marzipan loaf made with pistachios, hazelnuts and fruit). Locally produced Huile de Noix (Walnut oil) is the Dordogne's favourite salad dressing. Goose fat is used for cooking dishes such as cassoulet and daube de boeuf – and is considered one of the reasons for the famed longevity of the locals. Gateau aux noix (walnut cake).
Bordeaux wine (see above) and Monbazillac – Bergerac's sweet white wine. Jurançon wines – dry and sweet wines from south of Pau in the western part of Pyrénées mountains.
Getting to Aquitaine
By Air
Fly to Bordeaux with...
British Airways from Gatwick
Aer Lingus from Dublin
bmibaby from Manchester and Birmingham
Easyjet from Luton
Fly to Bergerac with...
Flybe from Birmingham, Bristol, Southampton, Exeter and Leeds
Ryanair from Nottingham East Midlands, Liverpool and Stanstead
Fly to Biarritz and Pau with...
Ryanair from Stanstead and Dublin
By Road
Paris > A10 > Bordeaux > A63 > Biarritz > A64 > Pau
COACH: Eurolines (08705 143219, www.eurolines.com) offers services to Agen, Arcachon, Bayonne, Bergerac, Biarritz, Bordeaux and Périgueux
By Rail
London Waterloo/Ashford > Eurostar > Paris Nord > Metro > Paris Gare Montparnasse > Bordeaux (TGV)
Paris Gare Austerlitz > Bayonne > Biarritz (TGV)
Contact Contact Rail Europe (08705 848848, www.raileurope.co.uk) for details (08705 848848, www.raileurope.co.uk) for details
Events and Festivals in Aquitaine
Bordeaux Antiques Fair (Late January), International Show Jumping Bordeaux (Early February), Spring Fair Bordeaux (April-May) , Lacanau Gliss Water Sports festival Lacanau (Early May), Bordeaux Wine festival (Late June-early July), Sarlat Theatre Festival (july – August), International Organ Festival Bordeaux (July-August), Arcachon Oyster festivals (July-August)
Festival du Périgord Noir : classical music (August – September) Sinfonia en Périgord : baroque music (August – September)
Marathon du Medoc (September) contestants swig a glass of wine after each mile and both the winner and the loser win their weight in wine! (visit www.marathondumedoc.com)
World Conkers Championship (October) see http://www.ffconkers.org/indexz.htm
Tuesdays Bric-a-brac antiques market Bordeaux (mid October)
Sarlat Film Festival (November)
Contemporary art festival Bordeaux (November)
Bordeaux jazz festival www.bordeauzjazzfestival.com (mid November)
Christmas Market Bordeaux (Late November-December)
Traditional Crafts in Aquitaine
Basketwork, shepherds'crooks, Basque linen and berets, Bayonne chocolate, Noutron knives